The Great Pizza Quest
SUNDAY 11 DECEMBER 2011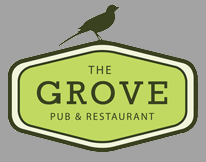 Legends come, and legends go. After 45 years, the corner of Stafford and Grosvenor changed from the familiar and infamous Tubby's - where the likes of the Guess Who and Neil Young frequented - to a new and intriguing The Grove. I'd always seen Tubby's, and felt their vibe, but I never went. They didn't have the greatest pizza in the world - or so I heard - but they had the atmosphere. I could certainly sense an underground notoriety and a community appeal emanating from the place. But last year, The Grove took over the spot and added a modernised British pub to the area. I'd see it all the time, and my wife and I kept talking about going, so one day we just up and went (true story). Although it was a difficult decision - as there were a few things on the menu I'd love to try - I did decide to go for the pizza, which was evidently paying tribute to its predecessor.
The pizza was named The Tubby and came topped with salami, pepperoni, sausage, mushrooms, bell peppers and onions. While the only option was to get it in an individual sized portion, the ten-inch diameter was surprisingly satisfying. The amount of meat on the little guy was near excellence, and was also well distributed. The only drawback in my opinion was that whenever a bite included a piece of sausage, that morsel was all you could taste. If you really like sausage that's not a problem, but when you want to taste the rest of the pizza it's distracting. Nevertheless, the meat all tasted fresh and authentic, the sauce was deliciously spiced and herbed, and the thin crust was crispy and sturdy. And the staff were all super friendly and helpful to boot.
I would indeed return for more, but probably would need to be in the right mood to try the other pizzas, as The Tubby was one of two that have meat - the rest have intriguing but exotic ingredients, such as eggplant or arugula. I know, I know, that's not very adventurous of me, but hey, I like a meaty pizza. And this homage delivered. That being said, despite the overall excellence of the individual ingredients - and the pub's service - the pizza as a whole was somewhat bland. In the end, the real winner wasn't even the house-brewed Stafford Street Lager, but instead was the British-imported Dandelion & Burdock pop - which itself denies description but begs you taste it. It is truly delicious.