The Great Pizza Quest
MONDAY 21 MAY 2012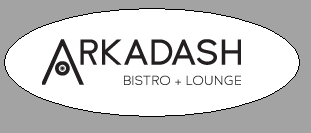 What is pizza?
Arkadash Bistro and Lounge will make you question what your answer is. The highly modern-styled restaurant was opened under two weeks ago (May 10 2012) by cousin duo Kelvin and Karen Peters and lists Lahmaçun (pronounced lah-muh-chin) among their appetisers. These are traditional Turkish pizzas, translating from the Arab as literally 'meat and dough,' and they are commonly served with minced lamb or beef. When we visited the bistro, however, they were offering the option of ground bison - which I took the opportunity to try.
It came upon a rectangular platter, which included a small silver dish filled with chili-pepper-sprinkled yogourt as well as a slice of grilled lemon. The Lahmaçun itself was an oblong flat bread covered in ground bison that was mixed in some sort of chili-and-tomato-based sauce. It was simple, but it was incredibly delicious and savoury. And it was spicy. If your bite was accompanied by a bit of the garlic-yogourt, however, the piquant factor was reduced, but the flavour of the pizza would be somewhat drowned out as a result. To be sure, I don't believe its spicy kick would be too much for anybody other than the extremely sensitive. While the yogourt was a nice addition, the pizza on its own was simply - and purely - scrumptious, complete with all sorts of flavours of seasonings and spices, giving the minced bison an excellent taste, even though it seemed to have a diminished presence.
Overall, Arkadash was a wonderful experience, which I would recommend everyone try. The atmosphere was a pleasant blend of stark modernity and comfort, and the service was prompt. And keeping with the times, the restaurant takes pride in sourcing local food options. Additionally, if you like blue-cheese, this place is perfect for you - even the olives in my wife's martini were filled with it. I would definitely like to go back again for more as well as to try the other items on the menu - and to of course give the Lahmaçun with lamb a try (but probably not the herbs and blue-cheese option). I recommend you also give this unique dish a taste - you won't be disappointed. But it will leave you wondering: Did I actually just eat a pizza?
For a recipe from Arkadash's executive chef, Karen Peters, check out her blog post at Arkadash Bistro and Lounge's blog.