The Great Pizza Quest
MONDAY 7 MAY 2012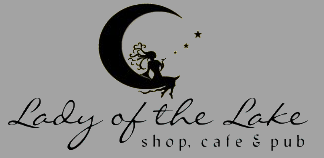 During a much needed weekend get-a-way, my wife and I stopped for supper at a local restaurant we've visited twice before. A quaint and eclectic place reminiscent of Pine Ridge Hollow, Lady of the Lake gets its name from Arthurian legends and the menu plays with the theme carefully as well as tactfully. While not bombarding you with medieval images, but instead merely displaying a watermark of their logo, the menu does have a handful of items alluding to the myths and their general ambiance: The Excaliburger, Prince Chicken, and the Meadow Salad are some examples.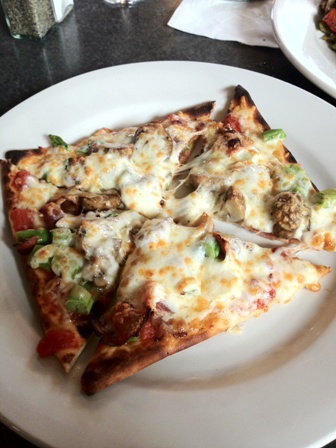 Fresh from the kitchen,
prior to its destruction
Boasting organic, local and of course fresh fare, the cafe and pub have a wide variety of foods to choose from - all appearing to be rather delicious. Taking advantage of the pizza selection - and the appetite for pizza I have - I decided to go with The Magical. It came in a square, approximately 12 inches across - so a good individual-sized portion - and topped with asparagus, bacon, mushrooms, mozza, and marinara sauce. The individual ingredients were, in a word, exceptional. The mushrooms were my wife's favourite part, and for good reason: they were whole button mushrooms that tasted like they were harvested only moments before the creation of the pizza. Delicious. The bacon was incredibly crispy and very flavourful - and made me want to eat more of it on its own. The asparagus was also rather fresh as well as carefully dispersed, chopped in small pieces but maintaining presence throughout the meal. The marinara sauce was a noticeable change from the usual tomato pizza sauce, but it was a good change as it added an extra kick of flavour to each bite.
One of the problems I had, which may seem minor to some but for me is nigh-major, was that the pizza was overly loaded and the crust, though tasty, was soggy and could just barely hold together. I had somewhat of a messy meal. Additionally, the pizza was actually a tad bland when you bit a chunk without bacon. That being said, it was indeed a magical pizza, but you might be better off choosing something else from the menu (the Excaliburger is delicious).

I genuinely had a hard time deciding on a rating for this one, if only because of the high quality of its ingredients (and the excellence of the restaurant's other dishes); but overall, it wasn't the best pizza I've had. Still, you should definitely check out the Lady of the Lake's shop and cafe. And when you do eat here, get the Wine and Cheese salad to start; it was the most magnificent salad I've ever had the pleasure to eat.